Rowan Integrated Special Needs Center
We've Moved!
But only just around the corner
The RISN Center has moved to its brand new, state of the art medical building at the proposed future home of the Rowan School of Medicine's second campus on the beautiful Rowan College of South Jersey, Gloucester Campus in Sewell, New Jersey. Designed to be sensory and disability friendly, the building is fully acccessible with features like touchless door entry, Hoyer lifts in the exam rooms, and adult changing tables and family restrooms. Additional features, like on-site labs with specially trained technicians and a sensory room for when you need a break, help calm anxiety and increase access to needed services. Located in the building with the RISN Center are offices for Rowan Pediatrics, Rowan Family Medicine, and the NeuroMusculoskeletal Institute (NMI) to further increase integrated care with occupational and physical therapy services coming soon!
Come see us at our new location at 1474 Tanyard Rd., Suite C100, Sewell, NJ 08080.
Ensuring Your Safety During COVID-19

The RISN Center is open, and our providers are available for in-office appointments. We know in these trying times that when it comes to your doctor's appointment, you want to remain as safe as possible. The RISN Center remains committed to providing patient-centered, compassionate care in a safe environment, but we also offer the option of TeleHealth appointments for those patients who prefer to remain at home. Learn more about our enhanced safety procedures.
---
TeleHealth is now available for new and current patients! 
Click here to find out more.
Excellence in Care for Individuals with Disabilities

Founded in 2019, the Rowan Integrated Special Needs (RISN) Center is South Jersey's first primary care practice dedicated to serving the needs of individuals with physical, intellectual or developmental disabilities. As part of the integrated medical home model, behavioral health and care-coordination services are embedded into our practice on all levels. We offer expanded access to routine medical services, including preventative healthcare, reproductive health and personal care.
Creating the Foundation, Bridge and Path
We are committed to providing medical care for people with a variety of chronic complex health conditions as well as intellectual and developmental disabilities. RISN is dedicated to educating patients, caregivers and other health professionals in how disabilities affect all aspects of our patients' daily lives so they can continue to thrive in the community. We also recognize the vital role caregivers play in the success of their loved ones with disabilities and seek to maintain caregiver health by offering them primary care services as well as caregiver support. 
Whether you need primary care, behavioral health services or care-coordination, at RISN we care-coordinate about YOU!
Check out this month's awareness days! Learn more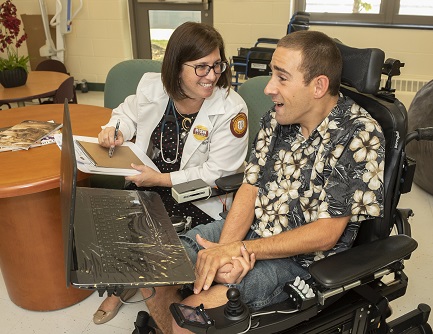 Primary Care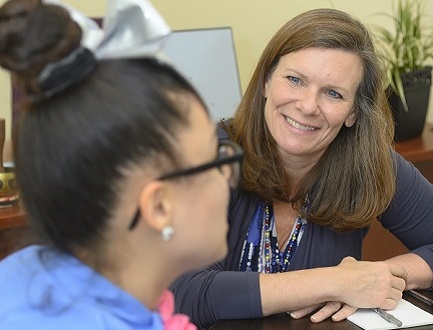 Behavioral Health
Start Your Care Journey
If you or a loved one has a physical, intellectual or developmental disability and are age 14+, please call us at 855-932-RISN (7476) to schedule an appointment with one of our primary care physicians. Once established with primary care at RISN Center, your medical home will include accessing any of our behavioral health or care-coordination services. We accept most major insurances, including Medicare and some NJ Medicaid plans. 
For an appointment call 855-932-RISN (7476).
About RISN
Watch Us Grow!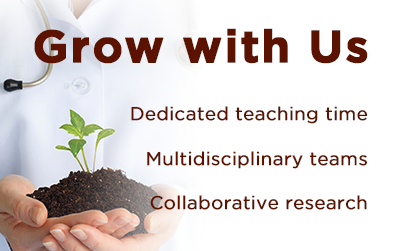 The RISN Center is expanding to better serve you and your loved ones in South Jersey! Our proposed new RowanSOM campus in Sewell will offer training for the next generation of medical professionals and feature state of the art design to better accommodate people with disabilities and sensory issues. Click on the link for a fly through of the new building and see all of the latest job openings.
Learn More
May is...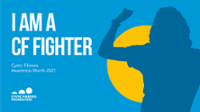 Cystic Fibrosis Awareness Month - Every person with cystic fibrosis has a story that is unique and multifaceted. By sharing yours, you can educate others about the realities of life with a chronic illness. During CF Awareness Month, the community comes together to help others learn about the disease, share personal stories, and unite behind our mission: finding a cure for all people with CF. Learn more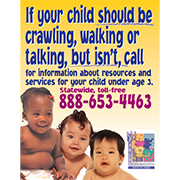 Early Intervention Awareness Month - Early Intervention Services assists developmentally delayed children until their third birthday. Families of children 3 and older can receive referrals for assistance from Project Child Find. Services for older children are typically provided through the local school district. Learn more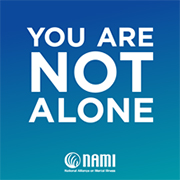 Mental Health Awareness Month - For 2021, NAMI will continue to amplify the message of "You Are Not Alone," and focus on the healing value of connecting in safe ways, prioritizing mental health and acknowledging that it's okay to not be okay. Together, we can realize our shared vision of a nation where anyone affected by mental illness can get the appropriate support and quality of care to live healthy, fulfilling lives — a nation where no one feels alone in their struggle. Learn more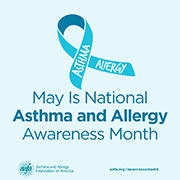 National Asthma and Allergy Awareness Month – May is peak season for people with asthma and allergies, and a perfect time to educate patients, family, friends, co-workers, and others about these diseases. With more than 65 million Americans overall having asthma and allergies learn how you can dispel myths and help people understand asthma and allergies. Learn more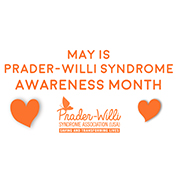 Prader-Willi Syndrome Awareness Month - Advocating on behalf of individuals with PWS and spreading PWS awareness has never been more important than it is today! PWS Awareness month is an opportunity for us to come together as a community, show our unity and strength, and help educate the world on PWS. What can you do? Learn more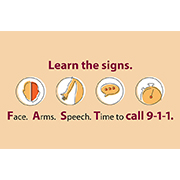 Stroke Awareness Month - When it comes to stroke, every minute counts. Acting F.A.S.T. (Face. Arms. Speech. Time.) can help stroke patients get the treatment they need to survive and reduce damage to the brain. Stroke Awareness Month aims to help people understand the basics of stroke, including signs and symptoms, the importance of a F.A.S.T. response during a stroke, and treatment. Learn more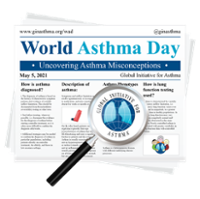 May 4: World Asthma Day – This year's World Asthma Day theme is "Uncovering Asthma Misconceptions". The theme provides a call to action to address common widely held myths and misconceptions concerning asthma that prevent persons with asthma from enjoying optimal benefit from the major advances in the management of this condition. Learn more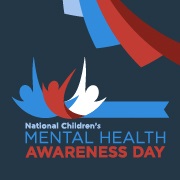 May 7: Children's Mental Health Awareness Day – Part of Children's Mental Health Awareness Week, May 2-8, this day shines a national spotlight on the importance of caring for every child's mental health and reinforces that positive mental health is essential to a child's healthy development. Learn how communities around the country commemorate the day, and find resources to support your own observance. Learn more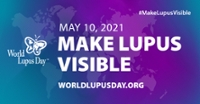 May 10: World Lupus Day – The annual observance focuses on the need for improved patient healthcare services, increased research into the causes of and cure for lupus, earlier diagnosis and treatment of lupus, and better epidemiological data on lupus globally. World Lupus Day serves to rally lupus organizations and people affected by the disease around the world for a common purpose of bringing greater attention and resources to efforts to ending this disease. Learn more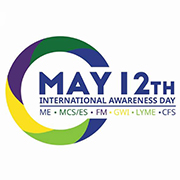 May 12: International Awareness Day for Chronic Immunological and Neurological Diseases (CIND) – CIND illnesses affect both the immune and nervous systems and include chronic fatigue syndrome, fibromyalgia, multiple chemical sensitivity, Gulf War syndrome, lyme disease, and many more. Learn more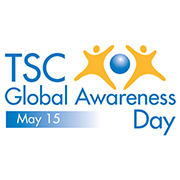 May 15: Tuberous Sclerosis Global Awareness Day – TSC Awareness Day brings attention to a disorder that causes non-malignant tumors to form in many different organs, primarily in the brain, eyes, heart, kidney, skin and lungs. TSC affects nearly 1 million people worldwide and can go undiagnosed for years due, in part, to the relative obscurity of the disease. Learn more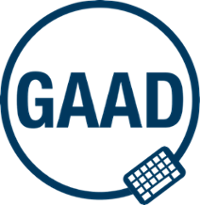 May 16: Global Accessibility Awareness Day – Every user deserves a first-rate digital experience on the web. Someone with a disability must be able to experience web-based services, content and other digital products with the same successful outcome as those without disabilities. This awareness and commitment to inclusion is the goal of Global Accessibility Awareness Day (GAAD), a global event that shines a light on digital access and inclusion for people with disabilities. Learn more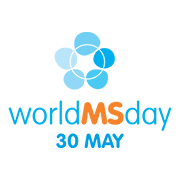 May 30: World Multiple Sclerosis (MS) Awareness Day – MS Awareness Day brings the global MS community together to share stories, raise awareness and campaign with everyone affected by multiple sclerosis (MS). World MS Day activities take place throughout the month of May and in early June. The campaign offers flexibility for individuals and organizations to achieve a variety of goals. Learn more